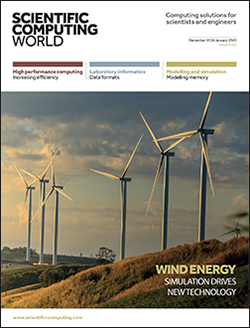 Scientific Computing World is the only global publication dedicated to the computing and information technology needs of scientists and engineers. It covers computing for engineering, science, and technology, with a particular focus on three key areas: Informatics; High-Performance Computing; and Simulation software.
Informatics software is driving the development of the 'Smart Laboratory', where products ranging from Electronic Laboratory Notebooks through traditional Laboratory Information Management Systems (LIMS) to cloud-based and Product Lifecycle Management systems are not only speeding up the business of analysing samples, but also converting the data into knowledge for the enterprise or organisation. We report on developments from the discovery and QA/QC laboratory as well as process-analytic quality assurance.
High-Performance Computing (HPC) is central to the publication, with a special section in the print magazine and an e-newsletter devoted to HPC. With scientists and engineers influencing the specification of supercomputers, our content provides an accessible route into understanding the underlying hardware of supercomputers.
Simulation software in engineering, chemistry, and the life sciences focuses on engineering design, research and development, with simulation and optimisation (in both mechanical and chemical engineering) a particular strength of our coverage.
Our focus is on how computers and information technology can make science and engineering faster, easier, and cheaper. First published in 1994, Scientific Computing World specialises in reporting on what makes computing for science and engineering distinctive. The geographical extent of the publication's circulation means that it is the only truly global publication in this field.
Print
Scientific Computing World is published six times a year, and is available for free to qualifying individuals in either print or digital format. Marketing options include display advertising, outserts, and inserts, as well as enhancements to the digital version, such as video overlay.
In addition, there are three annual supplements:
Building a Smart Laboratory 2020
Laboratory Informatics Guide 2020
HPC 2019/2020

Building a Smart Laboratory – For those new to the concept of the smart laboratory, this publication explores the questions that laboratory managers must ask of their suppliers when specifying and configuring a smart laboratory deployment.
Laboratory Informatics Guide – For established informatics professionals, this annual publication provides a year-round resource of suppliers, as well as providing a snapshot of the latest trends in operating informatics-led environments.
HPC – An annual resource for scientists and engineers using high-performance computing, containing supplier information and the latest informed opinions, trends and analysis.
Online
As well as showcasing features from the magazine, the website, www.scientific-computing.com, contains pages of web-exclusive news, products, white papers, analysis and opinion, case studies, event previews and webcasts. Alongside traditional banner advertising, marketing options include white papers, sponsored content, and webcasts.
Email
There are two regular email newsletters: SCNewsline, a monthly round-up of the latest news, event previews and more; and HPCNewsline, covering the latest in high-performance computing technology. Marketing options include banner advertising, sponsored content, and product showcases.